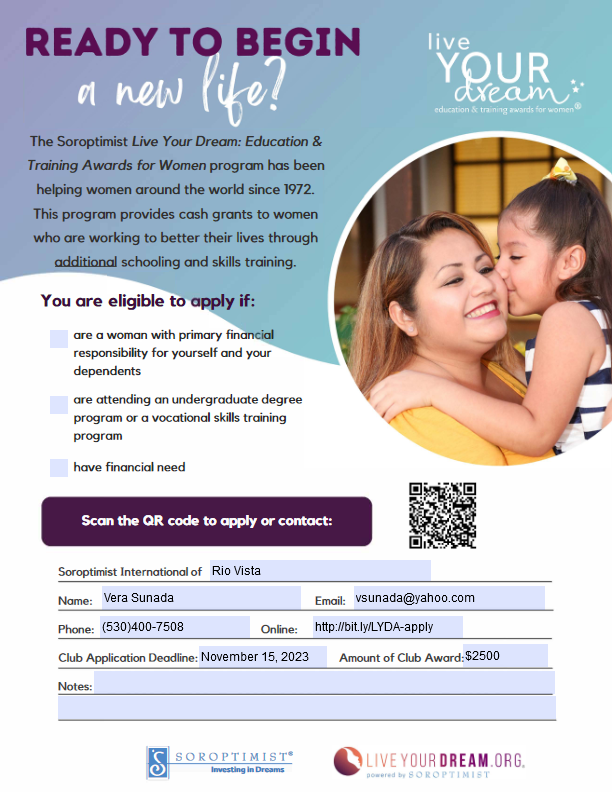 Ockemia Bean Wins 2022 Award
Soroptimist International of Rio Vista is delighted to honor Ockemia Bean with the 2022 Live Your Dream Award. Ockemia is the mother of two teenage children and full-time student at UC Berkeley. The $2,500 award helps Ockemia to continue her studies towards dual degrees in Psychology/Organizational Development and Interdisciplinary Studies.
The Live Your Dream Award invests in women, focusing on the one area that has the most impact on transforming lives and communities – education. The Live Your Dream Award is one of two key components of Soroptimist International of the Americas "Dream Big" campaign, the goal of which is to raise $15M to invest in the dreams of a half million women and girls through access to education by 2031. The other is Dream It, Be It: Career Support for Girls, which Soroptimist International of Rio Vista hopes to conduct in the Spring.
Ockemia's application spoke eloquently of her struggles as a single parent to care for her children as one transferred to a new school, and both adjusted to online learning and to support her own needs to achieve her educational goals. Her instructor, Luisa Giulianetti notes, "As a first generation, re-entry, student of color, and student parent, Ockemia has faced myriad barriers on her path to UC Berkeley. Academic institutions are not designed for non-traditional students like Ockemia." In her application Ockemia writes, "I learned from this challenge that there won't always be rules, guides, or instructions on doing things. I had no idea that we would be dealing with a pandemic, nor did I consider its effect on my life or the lives of my children immediately or long term. But I decided to press on and keep going." She continues, "Nothing is impossible; nothing can stop us if we have the determination to keep going and succeed."
The club is thrilled to support Ockemia's educational endeavors with the Live Your Dream Award and looks forward to her future success.

The Live Your Dream Awards involves three levels of cash awards. Award amounts vary at the local Soroptimist club-level. Local-level award recipients are eligible for region-level awards of either $3,000 or $5,000. Region-level award recipients are eligible to receive one of three international-level awards of $10,000.